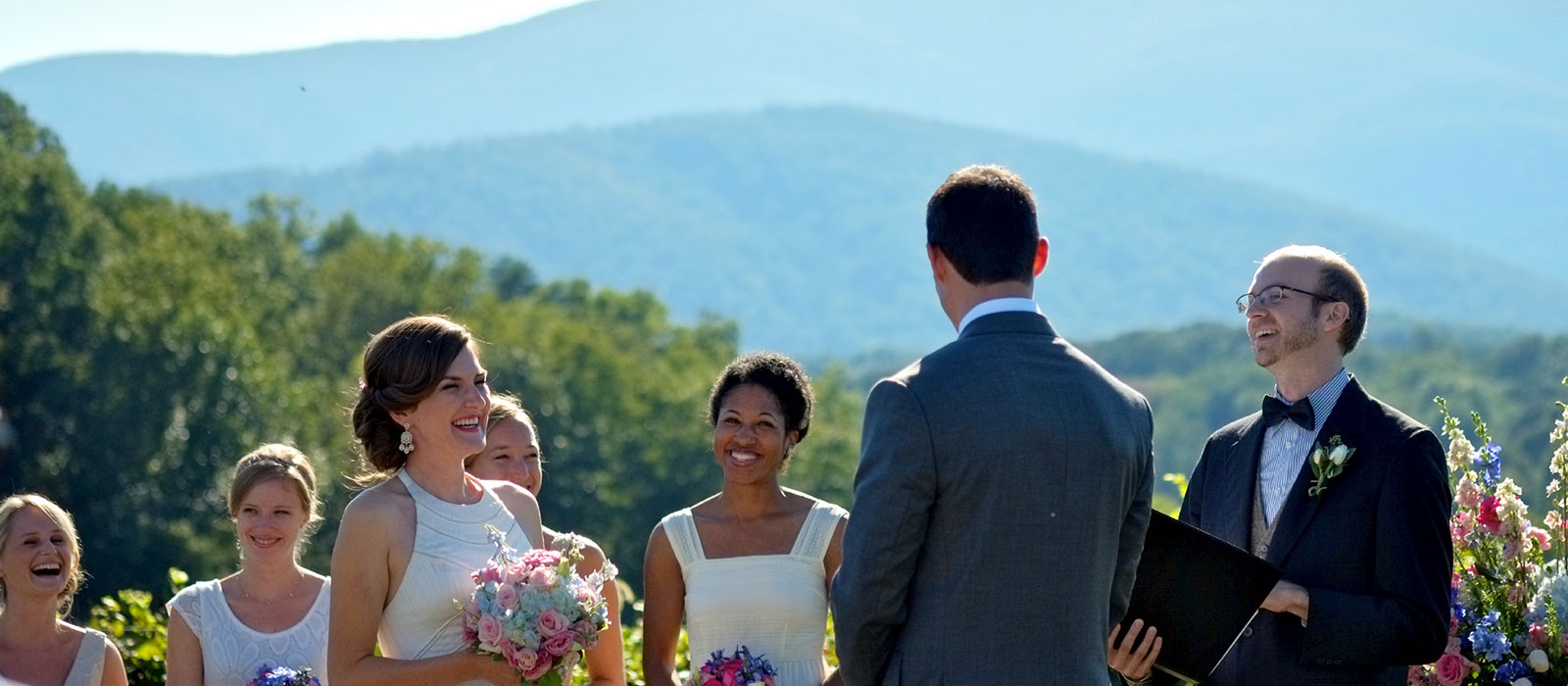 Weddings & Private Events
Looking to plan a celebration in Virginia wine country? Look no further. Nestled in the foothills of the Blue Ridge Mountains, we offer a variety of options that will help you make lasting memories with your closest friends and family. Whether you are planning an intimate birthday gathering, a special anniversary party, or the vineyard wedding of your dreams, we are happy to welcome you to our family farm. Approximately 30 minutes from Downtown Charlottesville, we are well situated to offer your guests the convenience of a nearby small town with the unique quality of a Virginia farm winery experience.
Taking pride of place at the high point of the property, our lovingly restored 19th century Farmhouse offers stunning views of the Cardinal Point vineyards as well as the surrounding Blue Ridge Mountains. With prized seclusion and a timeless, rustic feel, the Farmhouse is the perfect centerpiece for your special day.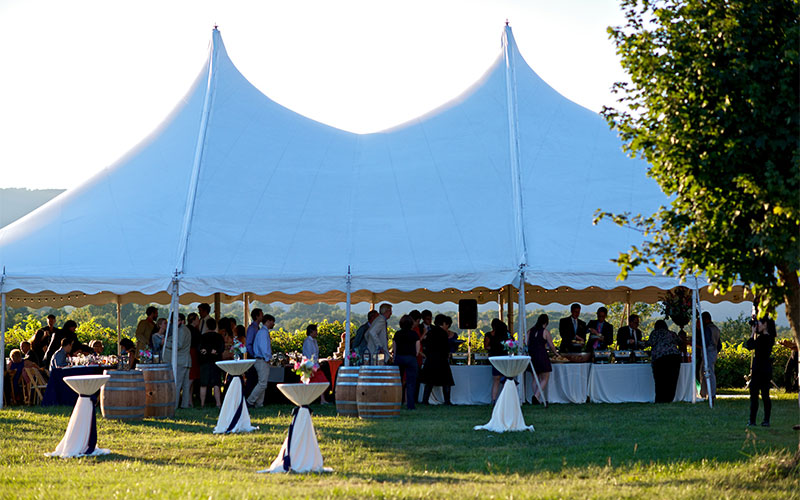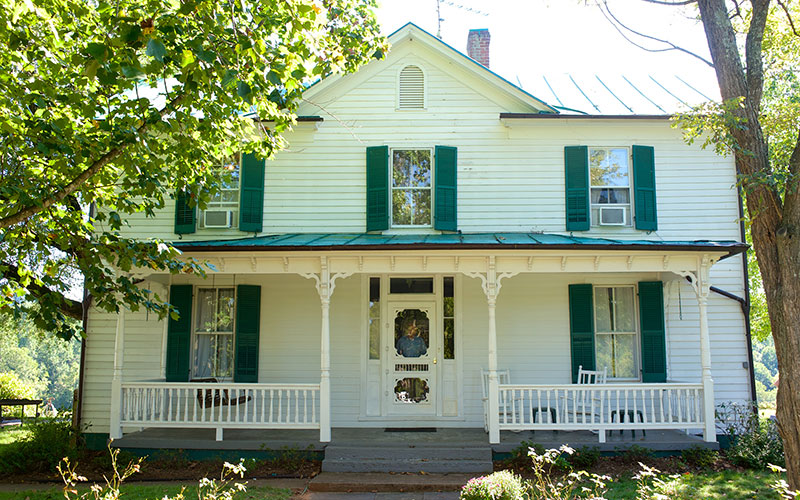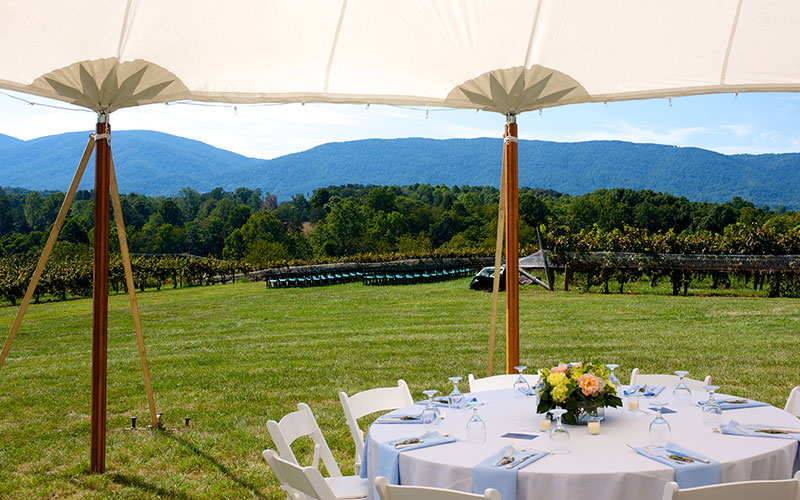 Our outdoor deck is well suited to a seated dinner and our covered patio can offer a cozy location for cocktail hour. For smaller events, we are happy to host you on our indoor Mezzanine, overlooking our winery's barrel room and production area.
DO WE HAVE TO HIRE AN EVENT COORDINATOR FOR OUR WEDDING AND OTHER LARGE EVENTS?
While we have the resources to assign a capable Cardinal Point event specialist to work with you and your coordinator, we believe in leaving the planning and execution of your event to the experts. We have worked with several talented event coordinators, and feel that requiring our guests to retain their services is in everyone's best interest.
WHAT IS COVERED BY THE RENTAL FEE?
What is covered depends on what venue you choose. If you choose the Farmhouse, your rental fee covers the outdoor space, parking spaces on the hill, and the rental of the Cardinal Point Farmhouse for two nights. This can be used for the bride and groom to prepare as well as for up to 12 guests to stay. You will be responsible for arranging tenting and portable restrooms. If you choose to host your event at the winery, covered space is included in your rental fee, but you may still need to rent portable restrooms. This is not a complete list for either venue; your Cardinal Point event specialist can fill you in on all the details.
CAN I BRING PETS TO THE PARTY?
Pets are not allowed at after hour events at Cardinal Point, unless special arrangements are made. Please speak with your event specialist if you'd like a pet to be part of your event.
WHAT ARE ACCOMMODATIONS FOR PARKING?
We have parking available for guests both behind the winery and at the farmhouse, in a grassy field. Cardinal Point can provide parking attendants for an extra fee.
HOW MANY GUESTS CAN I INVITE?
We don't have a lot of space at Cardinal Point, but the space we have is gorgeous. To ensure that you and your guests have the best possible experience, we limit events at the farmhouse to 120 people and events at the winery to 50 people. For weddings, that includes the officiant and bridal party.
WILL I HAVE TO SIGN A CONTRACT?
Yes – you will have to sign a contract, including a waiver of liability. You will also have to obtain and provide a Certificate of Insurance naming Cardinal Point, Inc. as an additional insured.
HOW LONG CAN MY EVENT LAST?
Events at the winery may not begin before 6:00 p.m. and must end by 11:00 p.m. Start times for events at the Farmhouse may vary, subject to availability. Maximum duration for any event is 5 hours.
ARE WE ALLOWED TO DECORATE THE SPACE?
Yes! We welcome decorations including flowers, candles, lighting, etc. Candles must be in containers or on a stand to prevent fire or damage to any surfaces. All decorations, are, however, subject to our approval.
DO I NEED TO PROVIDE MY OWN STAGE AND A/V EQUIPMENT?
Yes. We do not have a stage or A/V equipment. You will need to contact a vendor to handle these items for your event.
DO YOU PROVIDE DAY-OF COORDINATION?
We will work with your event coordinator to ensure that everything goes as planned the day of your event.
CAN WE BRING IN OUR OWN ALCOHOL?
All wine consumed at your event must be purchased from Cardinal Point. If you would like to serve other alcoholic beverages, you will either need to consult your caterer or obtain a banquet license from the Virginia ABC.
IS THERE A DISCOUNT IF WE PURCHASE WINES FROM CARDINAL POINT?
We will discount wine purchases for your event.
WILL I BE ABLE TO HAVE MY REHEARSAL THE NIGHT BEFORE OUR WEDDING?
We will make your choice of venue available for rehearsal the day or evening before your wedding. One of our event specialists will work with you to arrange a time that works for you and our farm and winery schedule.