Spring 2021 Quattro Co-Op
We are so pleased to have warmer weather on the way! We hope to be able to see all of you soon on our covered deck and patio. Remember, Co-Op members receive complimentary tastings for both themselves and 2 guests as well as a 20% discount on everything you purchase. We hope that you will come and enjoy with us as we all begin to enjoy the warmth of the coming season.
Quattro is fantastic all year round, but especially as the weather begins to warm. This lightly sweet and ever refreshing wine pairs beautifully with spicy food enjoyed with family and friends! We hope that this recipe will inspire you and pair perfectly with your Quattro. Cheers!

1 lb. skinless catfish fillets, cut into 16 pieces 3/4 cup whole buttermilk
1 /2 cup fine yellow cornmeal
1 /2 cup panko
2 tablespoons Cajun seasoning
3/4 teaspoon kosher salt, divided
1 /4 cup mayonnaise
2 tablespoons fresh lime juice (from 1 lime) 1 /4 teaspoon black pepper
2 cups shredded napa or green cabbage 8 (6-inch) yellow corn tortillas, warmed 2 radishes, cut into matchsticks (1/4 cup) 1 ripe avocado, thinly sliced
2 tablespoons fresh cilantro leaves
2 tablespoons minced fresh chives Lime wedges
Hot sauce
Step 1: Preheat oven to 450°F with oven rack 6 inches from heat. Combine catfish and buttermilk in a medium bowl; cover and chill 20 minutes or up to 1 hour
Step 2: Whisk together cornmeal, panko, Cajun seasoning, and 1⁄4 teaspoon of the salt in a shallow dish. Drain catfish; discard buttermilk. Working in batches, dredge fish in cornmeal mixture. Place fish on a wire rack set inside a rimmed baking sheet. Bake in preheated oven until it's golden brown and flakes with a fork, 20 to 25 minutes.
Step 3: Meanwhile, whisk together mayonnaise, lime juice, pepper, and remaining 1⁄2 teaspoon salt in a medium bowl. Add cabbage; toss to coat.
Step 4: Place 2 pieces of catfish in each tortilla. Top with cabbage mixture, radishes, avocado, cilantro, and chives. Serve with lime wedges and hot sauce.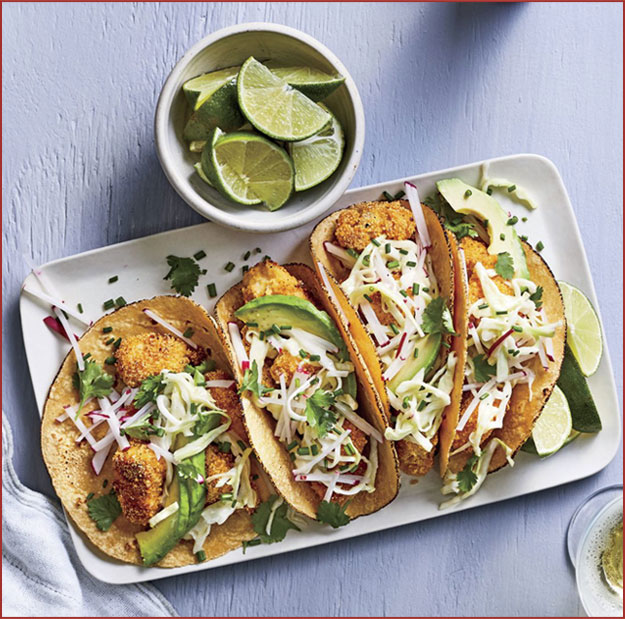 Questions? Concerns? Just let me know!
Brianna Saby, Co-op Relationship Manager | brianna@cardinalpointwinery.com