October is Virginia Wine Month, and October 17 marks the statewide harvest party! It's been a challenging year, both in the vineyard and out, but we have wine in tank and barrel, and that is something for which we are thankful.
Visit us the week of October 16 through the 23rd to celebrate! We'll be featuring discounts on our wines and Virginia-made merchandise in the tasting room. If you can't visit, check our website; we'll have a bundled special available for shipping during that week.
We want to thank all our online, in person, pickup, and delivery customers who have been so supportive of Cardinal Point over that last several months. Because of you, we've been able to keep our doors open, our vineyard healthy, and our staff busy. We want to give a special shout out to our Cardinal Point Coop members—you've all been great, and we've got a special treat coming up for you this fall to show our thanks—stay tuned!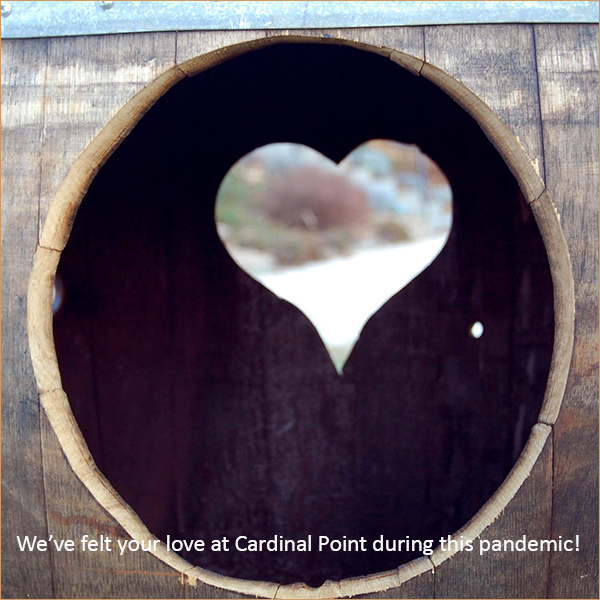 This is usually the time of year when harvest and plans for our annual Oyster Roast are in full swing. Although harvest stops for no novel corona virus, Covid-19 definitely stops larger gatherings under tents, no matter how great the oysters are. That said, we are not using the word "cancelled" here; we are just postponing the festivities until November, 2021. Already missing the oysters? Not to worry, we've made arrangements to satisfy your Rappahannock Oyster Co. cravings.
Beginning this week, place an order in our ROC store by noon Wednesdays, and you can pick them up at the Winery the following Saturday. There are lots of delicious condiments and ROC swag there as well—everything to put together your own Oyster Roast—make us proud!